If you're launching a Shopify store, you want to do all you can to optimise its performance from the get-go and make the most of any traffic you receive in the early stages.
It's important to utilise the best apps from the beginning to amplify your growth as much as possible. At the same time, there are too many apps to choose from and you can very quickly find yourself with a costly monthly outlay for little return.
For us, apps serve two main purposes: to increase sales both in quantity and order value, and to initiate a retention system to help with future marketing strategies.  There are plenty more objectives you can focus on of course, but we have found these two directions to be the most beneficial for building a firm foundation for our brand.
Klaviyo, Email Marketing

From the moment you launch you want to build an email list and send emails with quality content and incentives.  You should also use automation to engage customers based on their preferences.
Our recommendation for the best email marketing app is Klaviyo. It's the best we've worked with, and we are finding most other apps integrate well with it too. I have to confess, we use a different app, Omnisend, for one of our own brands. It works well, but we do seem to put in more feature requests than we would like, which makes us consider switching to Klaviyo for that brand too.
With Klaviyo the first thing you're going to be able to do is build an email list. You want to have some sort of lead on your site for those potential customers who aren't quite ready to buy, but are willing to provide their email for a benefit of some description. This is a smart way to build an email list – it provides you with the contact details of interested consumers, that you can utilise to establish a loyal customer base and greater sales further down the line.
Using Klaviyo's automation flows, our advice is to set up some funnels dependent upon user behaviour. We have found the most productive funnels are an 'Abandoned Cart' email reminder, and a 30 or 60 day 'win back' campaign.  For example,  if a customer hasn't purchased from you for more than 30 or 60 days, an email is automatically sent with some tempting offers to entice them back.
If your product lends itself to a specified serving or quantity that will require repeat purchase, for example, a 30 day supply – it's a great idea to set up an email funnel that reminds customers to reorder and when, to maintain their supply of the product.
Email allows you to send offers, promote blog content and inform about new products when they arrive. With the difficulties that come with paid ads, and how SEO takes time to become efficient, email can fill the marketing gap.  Therefore in our opinion, it's essential you have a productive email marketing program set up from the start of your business to promote growth.
Yotpo Reviews or Trustpilot Reviews
Building reviews is paramount to good brand reputation and business growth. Utilising an app for this purpose allows reviews to look as genuine as possible on the front end of your site.  Meanwhile you can use automated requests following genuine orders to acquire true reviews, which you can add in with the automated versions as you receive them.  The automated reviews generated from an app are a clever way to build trust in your brand whilst you accrue your first orders.
I personally love Trustpilot for this because I think the green stars and their branding is well recognised. We launch brands using their free tier and almost clone their branding, then manually add real reviews as we receive them. This isn't the best strategy long term, but it does save on the initial outlay of cost.
Look how those green stars just scream trustworthy!
Eventually we found we hit our limit of review requests and needed to upgrade. Trustpilot isn't cheap when you upgrade to the paid tiers (pushing into hundreds of pounds per month), but for our brand we believe it's worthwhile.  In our opinion, a comprehensive review program is a must, and I'm confident we'll be thankful we invested in this tool in years to come.
I also think it's essential that reviews feature on your homepage and PDP.  (We'll discuss this in greater length in another post – 'Optimal Layouts For Conversions On Shopify' – coming soon).
Other brands we work with use Yotpo, which is another excellent email marketing app. Again it comes with a moderate outlay, but it includes lots of tools to optimise the effect reviews have on your site.
The key purpose of these apps is to establish trust in your brand and draw attention to the benefits of your products.  Using a third-party review platform is a great tool to build a positive reputation around your brand that's authentic and believable – while you build a loyal customer base.
Sidenote: We built KetoKeto with Trustpilot and we were able to pull their reviews through software in their free programme. Turns out this is against Trustpilots' terms of service and so we were a tad mischievous. They didn't seem to mind though, because by the time they realised, we were happy to upgrade to their paid service.  I'm sure they are happy for people to leverage their branding if it leads to greater revenue for them.
ReCharge Subscription Software
If your product lends itself well to a subscription model, I would add this option from the outset. Even with products that aren't necessarily suited, you'll be surprised how many consumers opt to 'subscribe and save' if it means they do not have to think about reordering your product at the end of their supply.
ReCharge is the best app for this and the leader in this field. Most apps work well alongside it, and although it might be the most costly, I would say it's worth having alongside your other apps. The pay-off could be huge – in no time at all and without you even realising, you could have a few hundred subscribers.
FOMO – Social Proof
Not as essential but nonetheless worthy of mentioning, is an app like FOMO. This is the Shopify plugin that pops up who has just bought from your store. Browsers using your site can not only see it, but click the product and be taken to the product page to purchase it themselves.
These little plugins are subtle yet effective and there are other features that can be taken advantage of, such as a counter for how many have purchased that product in the last hour, or how many people are visiting your store at that current moment.
Now of course if no one is purchasing your products these plugins could highlight that, but more often than not, these apps would simply remain inactive if that was the case, so no-one will be any the wiser!
Personally, I think it looks great and operates as a fantastic marketing tool when, 'Sam just ordered' or 'Cath bought this item 2 hours ago' appears on the screen, especially when we are driving a lot of traffic to our site through a campaign.
Zipify Or Rebuy Upsells
We've used two great apps that assist with upselling products, Zipify and Rebuy.  Although they can sometimes be difficult to customise to suit your needs, they both meet the purpose of showing an available upsell – usually a discount when a customer goes to order.
This is an effective way to increase your average order value.  You could offer a second box at a discount or suggest another compatible product with a 'people who bought this also like this' pop-up. Here's just a few examples of how Rebuy works to do this, and how sites performing well are using to their advantage.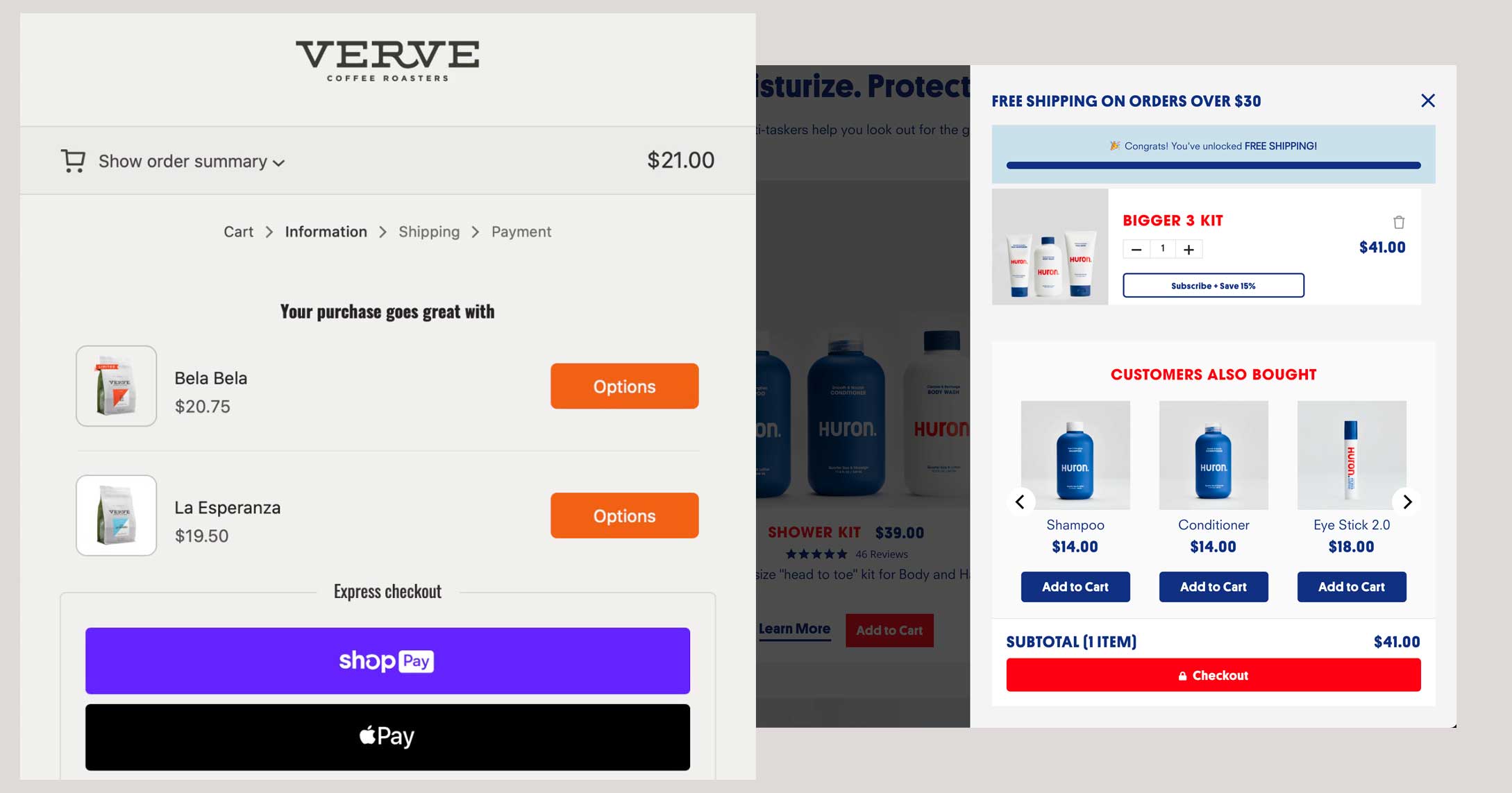 I would recommend having an expert designer/development team install this one however, to really get it look on brand and working effectively
Optimise every opportunity, increase your AOV wherever you can, and make the most out of every visit to your site by upselling in every possible way.  You could suggest different flavours, similar products or double-up discounts.  These types of apps could potentially increase your revenue by 20-30% come the end of the month.  For this reason, upselling apps are definitely worth utilising as soon as you launch your online store.
Speak to us
muchmore. is a leading Shopify & Shopify Plus agency based in Kent, England. We design and develop ecommerce websites that help brands grow fast and effectively.
Speak to a team member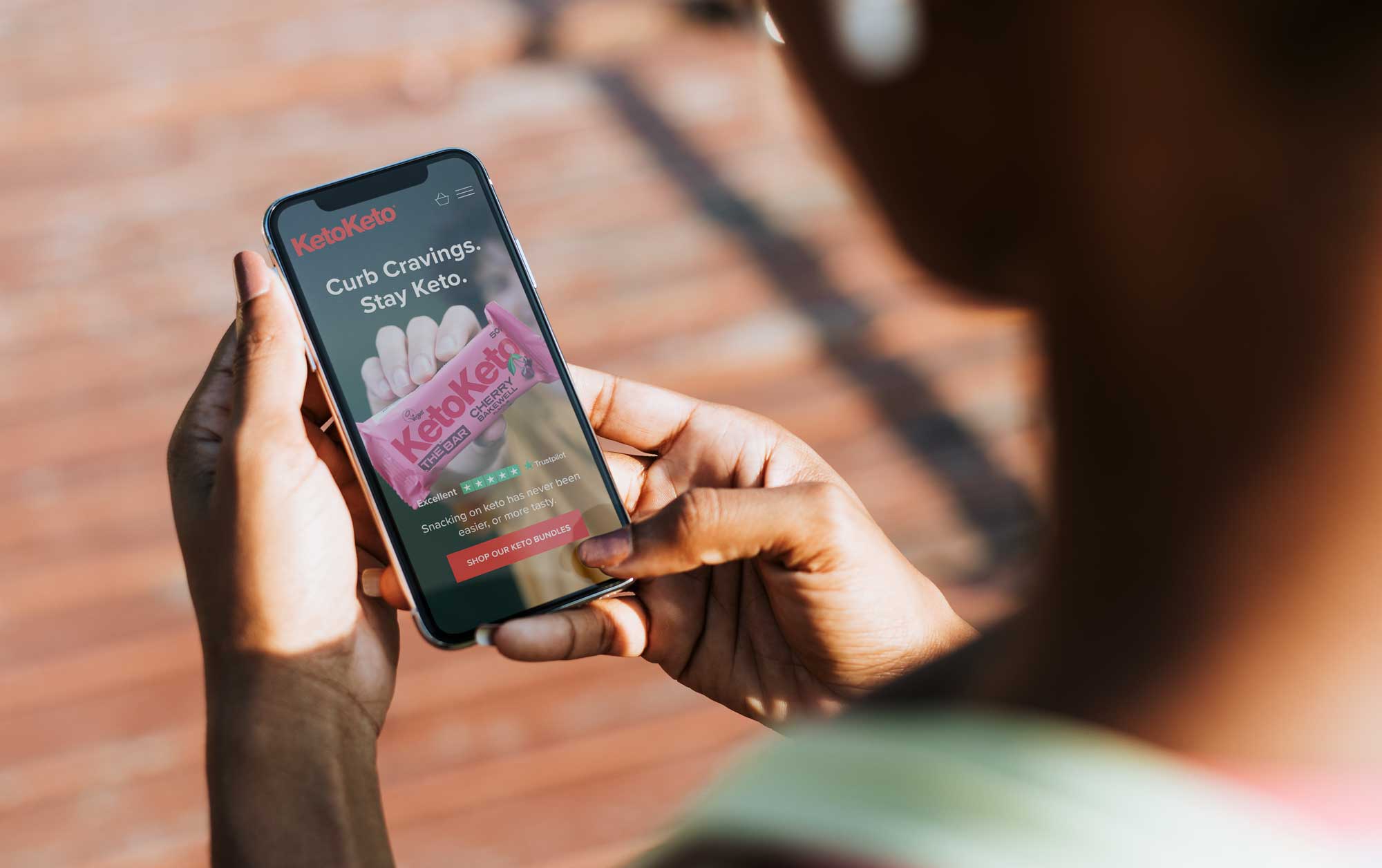 Yotpo Or ReferralCandy Referrals
Allowing your customers to do your marketing for you, is a great way to launch your Shopify store when budgets are low and you need to optimise every new visit to your site.
Apps like ReferralCandy work well to allow people to share discount codes unique to them, offering their friends and family discounts as well as giving them the opportunity to earn a discount for their efforts.
As you grow, consider using a more comprehensive app with more features such as Yotpo Referrals. We are beginning to move some of our brands to Yotpo once they hit certain growth milestones. Yotpo has more options and gives you more control over the features you'd like to incorporate, such as sharing an entire rewards programme with your customers!
I think using apps that allow your consumers to share your brand and products with their friends, family and followers is a game-changer.  This style of marketing may not suit every brand, so it's important to recognise what apps best suit your brand.  But healthy food and snack brands could certainly benefit from customers sharing their stories about how the product helped to improve their health and achieve their goals.  Satisfied customers are also more than happy to share their stories in return for a discount or offer.
Two Extras: Accentuate Custom Fields and SMS Marketing
I have added these two as they are two plugins we typically install from the very beginning of a site launch.
Accentuate Custom Fields is an app for updating content. It only really serves that purpose, but it also allows us to make areas editable for the client, which is especially helpful because we develop very bespoke Shopify websites for clients. It isn't always easy for clients or our team to update sections without having access to code, but this plugin can be used by us or the client to build pages with sections, or incorporate specific designs that wouldn't be possible with a generic drag and drop theme.
It's critical that you always give the impression of a high end brand from the very start of your launch. This means strong, tight looking design that follows a distinct brand structure. Allowing anyone to edit and move things around on your website is a definite no for us. We carefully design every new component before making adjustments to a website, and make sure every element is perfectly on-brand and works well with all the current content.
Finally, SMS marketing. We use Yotpo SMSBump for this, to also build a list of SMS subscribers. This allows us every so often to message out offers direct to potential customers' mobiles and drive traffic to the site. I'm personally conscious to be mindful about using this tool and not overreach, it carries the risk of annoying our customers and backfiring on us. But every so often we like to text out and offer new incentives, and it usually delivers a decent spike in sales shortly after.
In summary, these are our chosen must-have apps for launching a Shopify store, and the ones we recommend all our new brands add on to their Shopify sites as they build them.  In fact when we work with clients, we make sure we factor in building out all these funnels and processes within their launch proposals. That way they really hit the ground running.
If you're hitting walls with your Shopify store or need help in effectively launching your product, be sure to reach out to our team, even for a light conversation to hear our advice and recommendations of the best steps to take to really make the most of your budget and be successful with your brand or product.